This is what happens when Adele releases a song.
She goes out into a cabin in the woods, making calls on a flip phone from 2003, all while wearing a dead muppet as a coat, and manages to put me in my feelings.
She has me missing a boyfriend that I haven't even met yet.
Hey you…
Adele's Hello just came up on my iTunes in shuffle play. It's been a minute hasn't it? Then I realized that this would've been our anniversary. Today. Coincidence? I think…yes. But it makes me want to write to you anyway.
Sigh. It kind sucks how it all ended. But I know me, and I know you…the end was defined at the beginning.
But we had a good run…a record in my books.
Remember that time you tried to make me heart-shaped pancakes for Valentines Day? You couldn't understand how I was so "meh" on the day; that I had never observed it. So you got up and made these heart-shaped pancakes. Without a mold. So they just came out as giant oval "X's" instead of hearts.
I said, "Well that sums up my feeling on the day…" and you looked so disappointed. But I ate them!
They were. The. Best. Pancakes. Ever.
You tried. I appreciated that you tried. That you always tried.
Keep trying.
xo/rr
Adele seriously had me sitting at my laptop like: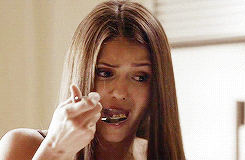 For someone I haven't MET YET.